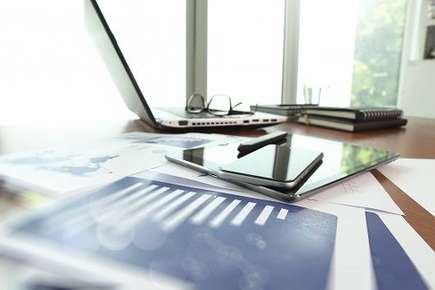 Eyestrain is a very common problem that causes sore, itchy, tired eyes that burn and water. Eyestrain can also result in headaches, sore neck and back, sensitivity to light, and difficulty focusing. While anyone can suffer eyestrain, using a computer is one of the most common causes of eyestrain. Ergonomics reduces the risk for eyestrain and can ease the uncomfortable and inconvenient symptoms.
Ergonomics is the science of designing a task, equipment, and furniture to fit the worker. The goal of ergonomics is to create a workspace that fits the individual to optimize his work performance and reduce his risk for injury. While eyestrain is temporary and usually not serious, this type of eye injury can seriously impair performance.
How to Reduce Eyestrain with Ergonomics
Sit up straight so that your head is in line with your torso. Keep your head lifted upright, not bent down or tilted back.
Sit with your shoulders square to the computer screen so that you face it directly without turning your head or twisting your torso.
Get a comprehensive eye exam to help you detect and correct underlying eye problems that increase your risk for eyestrain.
Position the screen so that windows are to the side, rather than in front or behind the screen, to minimize bright light that causes eyestrain. Control natural light with blinds, shades, curtains, or window tinting and keep inside light levels low. Adjust the position of the screen to reduce reflection from overhead or outdoor lighting.
Use an anti-glare screen filter.
Position the screen about 18 to 30 inches from your eyes. The screen should be close enough that you can read text easily without leaning forward. Looking at a screen that is too far away causes you to strain to see small text while a screen that is too close makes it more difficult for your eyes to focus.
Use a document holder whenever using printed documents in conjunction with a computer screen. Place the document holder at the same height and distance as your computer screen to make it easier for your eyes to move back and forth between the two documents.
Obey the 20/20/20 rule: after 20 minutes of computer work, focus on an object 20 feet away for 20 seconds. Take a substantial break of 15 minutes or more every two hours of moderate computer use, or every hour for intense computer work.
Source:
Mayo Clinic, "Eyestrain." 2012.